At the current moment there is a ground squirrel in the park contemplating what it considers to be a dire issue. The squirrel moves from place to place at a rapid pace, but now it pauses, as time passes it is clear this not an ordinary sort of sudden logical consternation. No, this is a tidal cascade of analysis welling up from the squirrel's deep existential reservoir (as squirrels are known to have).
To put it bluntly, the acorn it has perched in front of is peculiar. Upon its rounded surface there is, what appears to be, a kind of engraving of the 19th-century philosopher Georg Wilhelm Friedrich Hegel–of dialectic fame. What's more, this particular squirrel finds itself in a kind of stupor; it has been awake and about for far longer than the standard 12 hour period of squirrel activity. This is of course assuming that squirrels have a standard 12 hour period of activity.
The squirrel's mind is in a state of particular Hegelian Readiness–not to be confused with Himalayan Redness (tea, salt, rice, etc.). Melatonin has begun to do its job as a regulatory hormone, and the squirrel is willing to put up with the acorn's condescension. There is much publicized regarding squirrels in this state. As such, there is ample evidence to assume the squirrel will undergo a marked transformation upon consuming the knowledge this acorn offers.
It is unclear how, but the squirrel, despite being a squirrel, was able to surmise quite a bit about the nature of things from this unlikely situation. It learned much, grew as a being, understood more, and reconciled the opposing forces.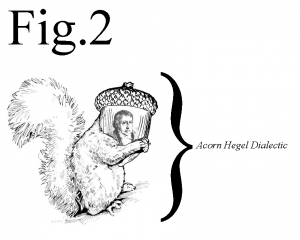 The squirrel has ascended.